Trade Commodities with SuperForex
We offer one of the best trading conditions available for everyone
1 Minimum Deposit
0 % Commission
ECN Accounts
17+ Payment Methods
About Commodity Trading
At all times agricultural products have been the main component of the economic relations of various states. Wheat and cotton began to be used for trading much earlier than currency or stocks. People can live without phones, computers and even electricity, but food is what makes mankind exist, along with sunlight and clean water. That is why wheat, cocoa, corn, soybeans and other commodities are profitable instruments for trading and investing.
The pricing of agricultural products is influenced by many factors: weather conditions, yield and delivery methods. In Forex you can trade and make money on price changes without actually buying or selling products.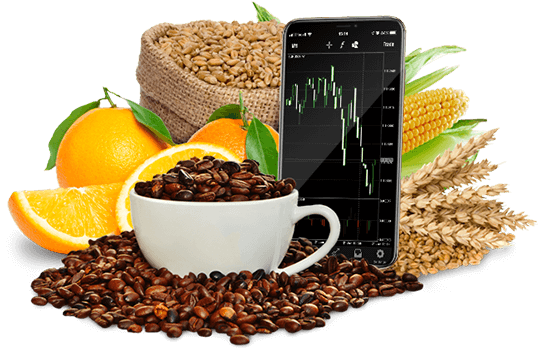 Why do Traders Choose Commodity Trading?
Transparency
Prices for these goods always remain at a real level. At that time, the value of currencies or stocks can be artificially high or low.
Predictability
Commodity trading is more predictable in terms of fundamental analysis, since it depends on the weather forecast and seasonality.
Dollar dependence
When the dollar strengthens, the price of wheat and other goods will fall, and vice versa; when the dollar weakens, the value of agricultural products will rise.
How to Start?
Follow 3 simple steps to start earning on Commodities.
Open a real trading account
Completely fill out the registration form.
Verify your account
Confirm your documents in your personal cabinet.
Start trading
Add funds to your trading account and start trading.