The Advantages of Trading with SuperForex
SuperForex is a discount broker that has been gaining popularity in recent years. The rise of this company is in large part due to the flexibility and ease of access of its services.
Any new customer can choose among several different account types, decide their own base currency and choose a leverage amount up to 1:2000. When it comes to moving funds to and from your trading account, SuperForex supports all major credit/debit cards, bank wires, and a large number of other payment methods.
Some of the main advantages of SuperForex include:
Zero broker commission
Zero broker commission* on deposits/withdrawals.
Deposit from $1
The minimum deposit is just $1 unless otherwise specified by the account type.
Spreads from 0.1 pips
Order spreads from 0.1 pips (no spread accounts are also available).
250+ instruments
Many base currencies in which you can open an account - JPY, USD, EUR, GBP & more.
*If you are using a third-party payment system to manage your financial transactions, that company may charge its own fees. These are determined by the payment systems themselves and SuperForex is not involved.
Types of Accounts
There are several different account types that SuperForex offers to target different styles of trading. Some account types are designed for people who are just starting out and need a budget account to manage small investments and small-volume orders. Others are better suited to highly experienced professionals who are ready to invest more to earn a greater profit.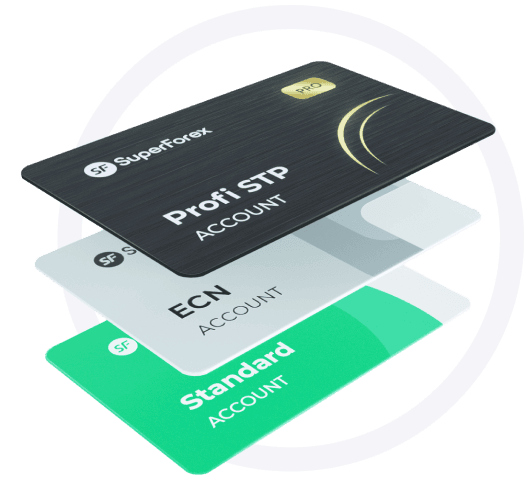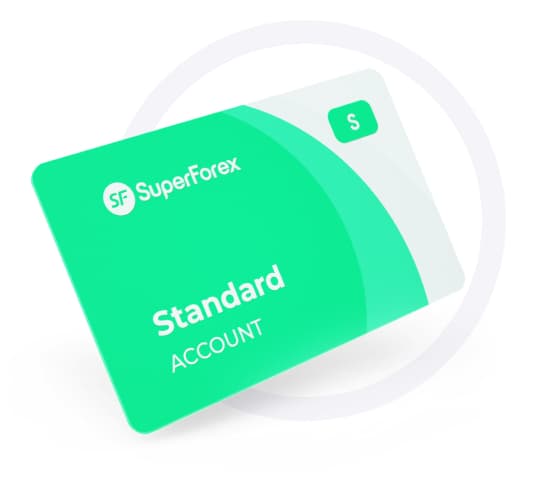 This is typically the account most traders start with. It supports many base currencies (including USD, EUR, GBP, and more) and has fixed spreads. The minimum deposit amount is $1 (or its equivalent in other currencies) and leverage can go up to 1:1000. All SuperForex bonuses are compatible with this account type.

There are also other versions of the Standard account such as:
No Spread, where the spread is 0;
Swap-Free, where there is no swap applied to open orders;
Micro Cent, where the lot size is much smaller;
Crypto, where you can trade all major cryptocurrencies.
You can learn more about STP accounts on a special page.
Instruments You Can Trade
SuperForex has a large trading portfolio which includes over 300 currency pairs, futures, major company shares, and stock indices, including the Nasdaq 100, #SPX and Dow Jones Industrial Average. You can trade most anything and hedge your investments by spreading them across many different types of assets.

Each instrument has its own specific trading conditions, which you can check here. SuperForex Safety & Regulation
SuperForex launched its services seven years ago and has since won several awards. It could not have done so without the trust and satisfaction of its customers.
In order to continue operating as a broker, the company's finances are supervised and evaluated every year by the International Financial Services Commission.
SuperForex further ensures the safety of its customers' money by enforcing a segregated funds policy. This means company money is separate from clients' funds - the latter is never used for company purposes.
In addition, SuperForex strives to only work with secure payment methods such as bank wires, Bitwallet and other trustworthy third-party payment systems.
Best Forex Broker in MENA Region 2016
by ShowFX World
Best Affiliate Program 2017
by ShowFX World
The Fastest Growing Broker 2019
by ShowFX World
Best New ECN Broker in Africa 2020
by Global Brands Magazine
If you have any further questions about the company, its services and its activities, please do not hesitate to contact SuperForex at:
Customer Support Department:
support@superforex.com
client-support.superforex
customer-support.superforex
Hotline: +65(3)159-0282 (International format)